Season Highlights
First Rehearsal – September 3, 2019
Night at the Races – October 25, 2019
YSU Carols & Cocoa – December 4, 2019
Holiday Concert – December 15, 2019
In May of 2020, Stambaugh Chorus will be traveling to NYC to perform on May 23rd under the direction of Dr Hae-Jong Lee. We will be performing with various other vocal groups and a professional orchestra. The choral work that we will be performing is the "Requiem" by John Rutter. The cost of participating in this concert can be obtained by contacting
PamelaGarver@stambaughchorus.org
. There is a deposit requirement. We will be traveling as a group by bus to NYC on May 20, 2020, attend rehearsals on Thursday and Friday and perform on Saturday, May 23, 2020. We will be returning on Sunday, May 24, 2020. The cost of the bus, hotel and meals are not included in the deposit amount, but we are making arrangements to reserve a block of rooms at a hotel not too distant from Carnegie Hall. When we are not in rehearsal individuals are welcome to tour the city on their own.
Stambaugh Chorus would like to invite any local singers interested in being part of this concert to join us in Sept when we start our regular rehearsals. We meet on Tuesday evenings from 7-9:30 pm in the ballroom at Stambaugh Auditorium. In September 2019 we will be working on our fall/winter repertoire for the concerts we have lined up for December. We will also begin work on the Rutter "Requiem" in the fall and will perform a couple of selections from the "Requiem" at our winter concerts. If you can not attend the fall rehearsals we will continue and step up our rehearsals in Jan when we return from the holiday break.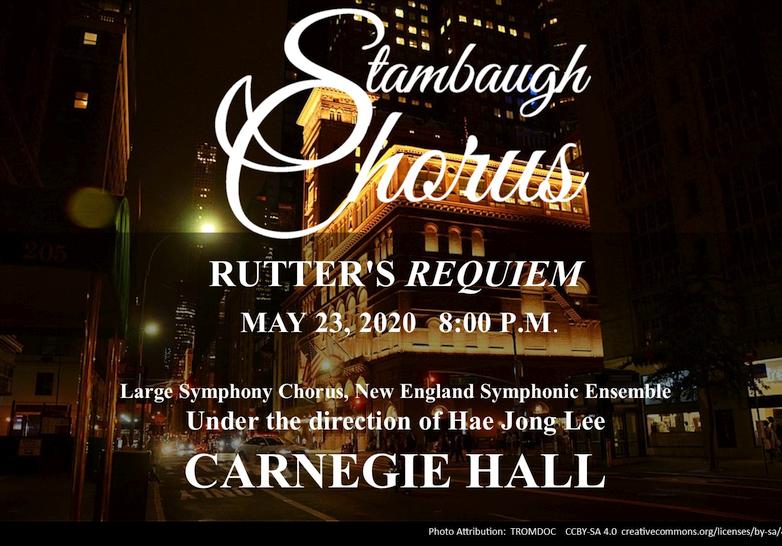 ---
NEW!! You can donate through our Facebook Page and can start Fund Raisers.
---
Click here to see additional support options.