Don Megahan, director
Don Megahan is music director of the Stambaugh Chorus  in addition to serving as organist/choirmaster at Ingomar United Methodist Church in Pittsburgh, and Acting Music Director and Organist at Rodef Shalom Congregation in Oakland. Mr. Megahan was a member of the Mendelssohn Choir of Pittsburgh, singing with the nationally famous ensemble from 1987 to 1995, and served as accompanist for their 1995 Central European Tour. He was also accompanist for the Junior Mendelssohn Choir for 13 years, serving as assistant conductor for two of those seasons. Don Megahan earned his bachelor of music from Duquesne University with degrees in Sacred Music and Organ Performance, and his master of music in Conducting from Carnegie Mellon University where he was a student of eminent American choral conductor, Robert Page. He has served on the Executive Board of the American Guild of Organists (AGO) Pittsburgh Chapter, Board of the Organ Artist Series of Pittsburgh and holds the AGO Service Playing and Colleague certificates.     Mr. Megahan is also active in Chorus America and the American Choral Directors' Association.
Linda Rein, assistant director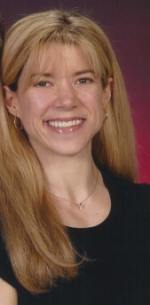 Linda Rein is Director of Music at Redeemer Lutheran Church in Austintown and has taught private piano, organ  and voice lessons for 19 years. She received her BA in Music and Elementary Education from Concordia College, Ann Arbor, MI and Master of Education from Indiana Wesleyan University.  Mrs. Rein serves as the  vice-president for the Stambaugh Chorus. She is the Music Education Coordinator for Solich Piano & Music Company. Linda also teaches music at Boardman United Methodist Preschool and Montessori School of the Mahoning Valley and presents after-school enrichment programs  at Eagle Heights Academy, Austintown Local Schools and Mineral Ridge Schools featuring group piano, voice, drumming and recorder instruction. As a certified Musikgarten instructor, Mrs. Rein teaches group piano and piano preparatory programs at The Ursuline Center in Canfield.   Organizational memberships include the Youngstown  chapter AGO (American Guild of Organists), NAMM, MENC, OMEA and Youngstown Music Teachers Association.  She also serves as judge for music festivals in Ohio. In addition to her many musical involvements, she is devoted to several church and community activities and most enjoys being with her family: husband, Karl and children, Danny, Alison and Katie.