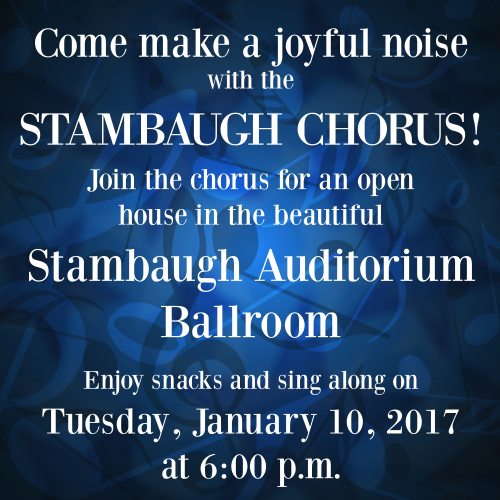 Come make a joyful noise with the
 Stambaugh Chorus!
 Join the chorus for an open house in the beautiful
Stambaugh Auditorium Ballroom. 
Enjoy snacks and sing along on
Tuesday, January 10, 2017 at 6:00 p.m.
 Our spring season includes a "Messiah" sing-along concert in March and a concert in June featuring the best of John Rutter's music performed with the Stambaugh Chamber Orchestra.
 Why join the Stambaugh Chorus?
Cindy: "I haven't had this much fun in years!"
Audrey: "The reward of mastering great music."
Ann: "Good music, good company."
Cynthia: "Dr. Lee is wonderful."
 New members are always welcome!
 For more info, call Kellie at 330-539-6132, Billie at 330-469-7309 orGenevieve at 330-609-8407
 Stambaugh Chorus: The best seat in the house is on the stage.